Epoxy Resin Guide – Everything You Need to Know About Epoxy Resin
This post may contain affiliate links. We may earn a small commission from purchases made through them, at no additional cost to you.
Epoxy Resin is becoming more and more popular. But what exactly is resin and what is the difference between laminating and casting resin? We explain the differences between the different resins, what they are used for, and which are the best products on the market for your specific projects.

What is Resin?
Epoxy resin or resin is a material that can be used for many different purposes and is created by mixing two components that are matched to each other. If the liquid resin is mixed with a suitable hardener, a chemical reaction is set in motion that usually lasts several hours.
After the components have been mixed with each other, not only heat is radiated, but the material is also converted from a liquid to a solid / cured state. Usually, the mixing ratio of resin to hardener is 1 to 1 or even 1 to 2, so that the material can cure perfectly.
If you look up this exciting topic on the Internet, you will usually come across the terms epoxy resin, synthetic resin, casting resin, laminating resin, or just resin again and again.
Different epoxy resins or casting resins, each with individually different properties, can be used for a variety of different applications according to the manufacturer's specifications. There is a wide range of different resins, which differ considerably in terms of the duration of the curing process and the hardness and durability of the finished transformed surfaces. Further parameters for the selection of a specific epoxy resin can be factors such as the maximum layer thickness that can be formed with the material or its heat resistance.
The different properties of epoxy resin in different product variations:
Viscosity (flowability)
Maximum thickness of the layer that can be applied per casting process
Duration of the curing process
Adhesion properties on surfaces of different materials
Degree of hardness after thorough completion of the transformation
We would like to show you which aspects you should pay attention to when buying epoxy resin in order to have exactly the right material at hand for your intended project.
What is Epoxy Resin Used for?
Essentially, epoxy resin is very versatile and can be used for different types of art and craft projects. The following examples are only a small sample from the multitude of possible applications:
Soil sealing in living spaces
Fixing of stone carpets indoors and outdoors
Cut-resistant sealing of worktops in the kitchen
Pieces of epoxy resin and wood such as cutting boards
Modern renovation ideas for old buildings
Quick repairs with special UV resin
Epoxy resin art objects such as resin art pictures
Casting of molds and figures of all kinds
Decorative objects such as Resin Geodes and Resin Petri Dishes
Timeless resin furniture such as tables made of epoxy resin
Resin floors for shower trays
Waterproof sealants for garage floors
Resin Casting of artifacts and materials in resin
Self-construction of aquariums and terrariums
Repairing and gluing small parts together
Resin as topcoat or gelcoat for boat building
Selfmade kiteboards
Model building projects
What Should I Consider When Buying Resin?
Epoxy resins are now available at many specialist dealers and in most DIY stores. The choice is usually even greater when you order via the Internet, where you can often get these materials at the best price. Online you will probably find by far the largest selection of high-quality product variants for all possible areas of application at many dealers.
If you are just beginning to work with epoxy resins, you may be put off by the fact that many epoxy components are not exactly cheap. But that should not be a reason for you to always look for the cheapest offers. After all, product variants that are offered at particularly low prices can sometimes be of such inferior quality that they cost satisfaction points and demotivate you, not to mention it could completely ruin your work.
Some products may also contain solvents that are hazardous to health that evaporate during the curing process. It can happen that your material does not cure completely or is difficult to mix before the curing process. Some cheap resins do not impress with their crystal-clear transparency, but appear slightly yellowish during processing. This unpleasant yellowish tinge can be intensified later with a little sunlight.
Tip: Despite a reasonable price comparison, you should buy epoxy resin components of the highest possible quality in order to work well with them and achieve beautiful results.
Which Resin Perfect for My Project?
First of all, this question is about the material properties that characterize a particular epoxy resin mixture. You should, therefore, be able to estimate how the epoxy resin can be processed and worked within the liquid and cured state on the basis of the instructions
Low-viscosity Epoxy Resins / Casting Resins
Caution is required when dealing with viscosity: This term describes the flowability of liquids. Accordingly, we speak of low viscosity when a liquid is particularly thin and flowable. So if you need a particularly fluid resin, you should buy a low viscosity resin. The property of a nearly watery consistency can be very important for some applications, e.g. if you want to cast molds or for the production of river tables.
Absolutely recommended, low viscosity, casting resin:
Thick pours, low viscosity, and long working time
Clear results and compatible with pigments and dyes
2:1 mixing ratio by volume
View on Amazon
However, the low viscosity of these resin variants means that they cure very slowly. You should, therefore, plan for longer time intervals for the next processing steps. But you also have much more time and no stress during processing. After all, low-viscosity epoxy resin usually only hardens after 12 to 24 hours. Since the exothermic chemical process of transformation is so slow, relatively little heat is released. Thus, in contrast to high-viscosity or medium-viscosity epoxy resins, thicker layers and larger quantities of the material can be processed in one operation without any problems.
Fields of Application for Casting Resin
Casting of all kinds of molds
Production of epoxy resin jewelry
Molded parts in the field of model making
Furniture such as epoxy resin tables and resin river tables
Filling cracks and holes in wood
Epoxy resin floors in living areas or garage floors
High-viscosity Epoxy Resins / Laminating Resins
Many thicker and therefore highly viscous or medium viscous epoxy resins are reminiscent of honey with their tough consistency. Product variants in this category are often explicitly referred to in the trade as laminating resin or epoxy resin and are particularly suitable for coating surfaces. However, they can also be used to undertake projects in the field of resin art and resin geodes. With highly viscous resins you should definitely take the manufacturer's instructions regarding the maximum layer thickness of a work step seriously. In many cases, a layer thickness of 1 to 2 cm should not be exceeded for problem-free processing.
For applications which require a high or medium viscosity resin, we recommend the PRO MARINE ProArt Resin

High-quality crystal clear Table Top Epoxy

100% Solid Material with no VOC and solvent additives
Easy 1:1 mixing ratio, once cured very hard surface
View on Amazon
Application Areas for Laminating Resin
Resin art, i.e. the casting of pictures with resin
Deco objects like Resin Geodes and Resin Petri Dishes
Finishing of paintings and works of art of all kinds
Certain variations of resin jewelry
Sealing of surfaces such as worktops or tables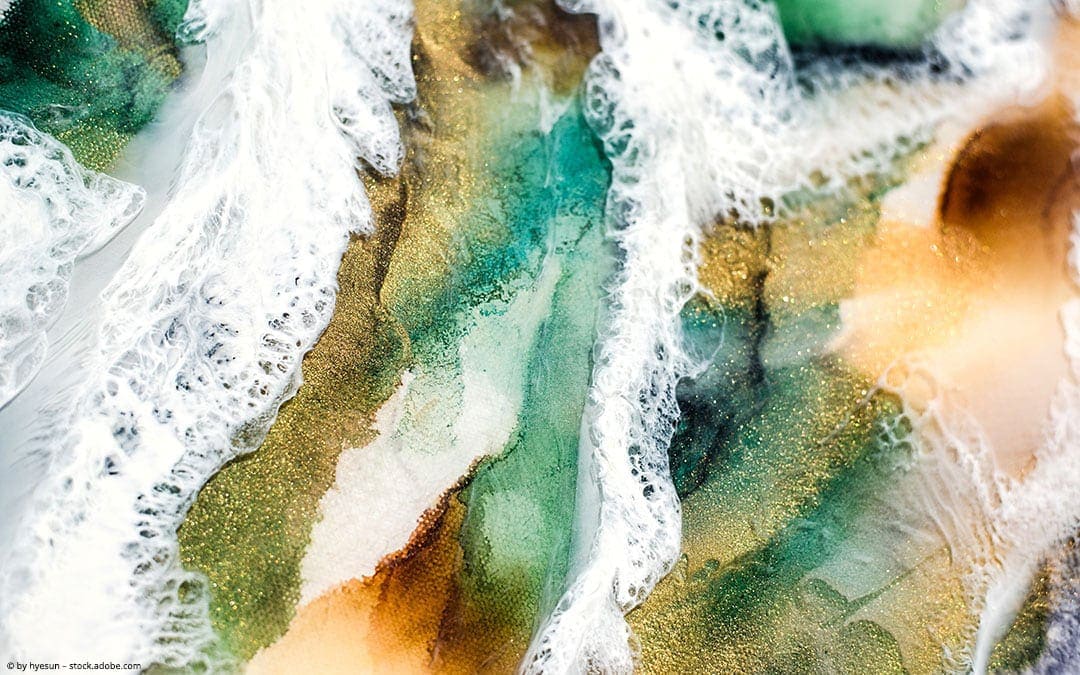 Information about Different Viscosities:
Layer Thickness
Thicker layers can easily be cast with particularly low-viscosity resin variants. Since this resin does not heat up as much during curing, thicker layers can also be cast. You can remove air bubbles from the still liquid epoxy resin layer by gently blowing with a hot air dryer or a suitable Bunsen burner.
More viscous resin such as laminating resin should not be poured thicker than about 1 cm. Air bubbles rising in the material are very difficult to get to rise and escape because of the highly viscous consistency.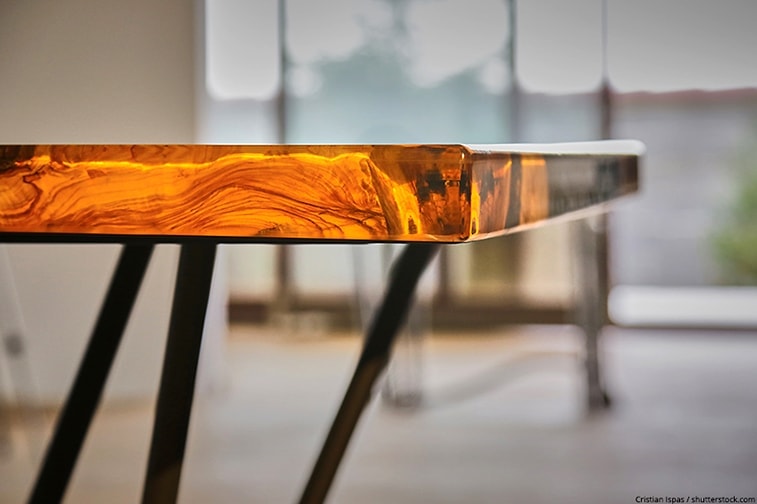 Tip: You can usually find the most important information clearly stated in the manufacturer's information on the product packaging. As a rule, this information should also tell you what total amount of material can be used in one operation without problems.
Processing Time
A very important factor when working with epoxy resins is the so-called processing time. It is also called pot life or open time by some people. These terms are used to describe the time span within which the resin can be processed after mixing the two components (resin and hardener).
At a certain point, a phase finally sets in during which the resin becomes thicker and more viscous. At this point, it should not be processed any further (except perhaps in special cases), as it does not level out to a flat surface by itself and cannot be colored homogeneously.
Short Processing Time
Pros
Certain effects can be achieved when dyeing these resin variants
Faster layer build-up: several layers can be poured on top of each other at shorter intervals
Cons
Increased bubble formation in difficult venting situations
Under UV radiation a certain yellowing can often occur
Long Processing Time
Pros
In case of a longer working time there is enough time to mix several different colors and to work them in peace
The transitions from one layer to the other are hardly visible when several transparent layers are stacked on top of each other
Cons
More individual materials such as mixing bowls and spatulas are required for casting several layers
Curing Time
The curing time of epoxy resin is defined as the time span after which a state of absolute hardness and durability is reached after mixing the components. Usually, the curing time is also related to the processing time: If it has a short processing time, the resin is usually completely cured and hard even after a comparatively short period of time.
How much do different products differ in terms of processing time?
Products with a rather short working time of about 20 minutes to 1 hour should be completely cured after about 24 hours.
Products with a working time of up to 12 hours allow more complicated processing and effects, but also need up to 1 week for complete curing.
The Properties of Epoxy Resin at a Glance
In recent years, the production and sales volumes of epoxy resins have increased in leaps and bounds. This is not least due to the fact that more and more people know about the incomparable properties of this special material.
The Extraordinary Advantages of Epoxy Resin
Many people who hear or read about it for the first time ask themselves the question: What is resin? This question can best be answered by listing its special properties. The properties listed below refer to the firmly cured state after mixing and curing. Depending on the manufacturer and product, this state may not be reached until after about a week. You will generally find more detailed information on this in the manufacturer's instructions directly on the packaging of your components. Sometimes it appears much earlier as if the casting resin has already completely cured. In many cases, however, the chemical transformation takes much longer than expected. However, once the curing process is complete, the following positive properties apply to almost all products:
Very high abrasion resistance
Generally high material strength
Insensitive to impact (does not shatter or splinter)
Usually a low shrinkage during the conversion from liquid to solid
Density values of around 1.2 grams (per cubic centimeter)
Good UV-resistance with correspondingly high-quality products
Adheres well to almost all materials (for example also to wood)
High heat resistance
Acts as an electrical insulator
High acid resistance
With careful substrate preparation: hardly any cracking of the epoxy resin
Good weathering resistance in outdoor areas
Tip: High-quality epoxy resin is also hardly or not at all flammable in liquid state.
Almost Absolute Durability
A fully cured surface of high-quality epoxy resin is extremely durable and abrasion-resistant. The material is mechanically very strong without deformation. It is also acid-resistant and not susceptible to corrosion. Therefore, high-quality resin is also used as a cut-resistant coating for kitchen worktops.
Possible Disadvantages of using Resin Epoxy
Although the positive properties of epoxy resins outweigh their disadvantages, there are of course also certain negative aspects of this material:
With highly concentrated acid resin is not completely acid resistant
The liquid raw material may cause allergies and/or rashes in some people after skin contact
Some products are not absolutely lightfast under UV light and may yellow
Already cured resin is not easy to remove
Are Epoxy Resins Toxic or Dangerous?
The liquid resin and the corresponding hardener contain substances that should not be applied directly to the skin. Direct skin contact through the components in their raw state could (as with many other substances in everyday life) to a certain extent cause irritations of the skin or even allergic reactions. In general, we recommend that you always approach projects with epoxy resin in very well ventilated rooms only. In addition, you should always protect your eyes with suitable protective goggles and ideally also wear a breathing mask with filter. Relevant safety instructions of the manufacturer on the packaging should be observed.
The following protective steps must be taken every time you work with epoxy resin:
Wear protective goggles (which completely enclose the eyes)
wear old clothes with long sleeves and legs (or a protective suit)
only work in a well-ventilated room
use undamaged nitrile gloves
wear a respiratory mask with integrated filter
do not fill the vessel completely to the brim when mixing the components, otherwise the mixture can easily spill over the brim when mixing
As long as you follow these basic rules, there should be no major problems when working with epoxy resin. You can find further information in our separate blog post on the subject of epoxy resin processing.
How can Epoxy Resin be Colored?
Epoxy resins are usually colorless and absolutely transparent. This is why they are so often used for applications where objects or collectibles are cast in resin. But transparent resin is also very often used for the manufacturing of self-built aquariums or terrariums. There are, however, many other conceivable applications for which you might want to color the resin.
Which Colors are Suitable for Coloring Epoxy Resin?
The following different types of colors are suitable for coloring resin:
Powdered color pigments
Alcohol Inks

Color concentrates in liquid form
Airbrush colors
Do not use paints that contain water. The water contained in the paints could prevent the epoxy resin from curing completely or cause other undesirable effects on the resin.
It is always worth buying high-quality products when coloring epoxy resin. Only if they are of the right quality can the colors be impressive in the long term due to their light fastness. Hardly anything is more annoying than to notice the fading of a small work of art made of epoxy resin just a few weeks after production.
Our recommendations for high-quality colorants for resin:
As an alternative to coloring the epoxy resin mixture, work-pieces made of resin can also be painted afterward with a high-quality car paint based on 2 components. However, this effort is usually only carried out under the special requirements for the construction of aquariums and terrariums.
Frequently Asked Questions About Epoxy Resin
Can Wood be Easily Sealed with Epoxy Resin?
Different types of wood can be sealed very well with epoxy resins. This is even one of the main applications of epoxy resins, as it can effectively seal the sometimes quite soft and porous wood surfaces and thus protect them from any kind of moisture. The following projects are examples for the various applications of epoxy resin in this field:
Repairs of boat parts with topcoat or gelcoat
Sealing of table tops
Sealing wooden kitchen worktops
Sealing all other wooden surfaces
Further information on this special topic can also be found in our guide on Epoxy Resin Wood.
How can Epoxy Resin be Removed from Unwanted Areas?
The pronounced adhesive properties and the indifference to mechanical loads of all kinds are usually classified as definitive advantages of epoxy resin as a material. However, these properties also make it relatively difficult to remove epoxy resin after curing. Since it is so difficult to remove resin by mechanical means, we recommend that you rather use other means in such a case: in doing this, you can re-liquefy the resin and then scrape it off the surface.
You have to wet the surface in question with the solvent acetone in a well-ventilated place and then wait for about an hour. After this time the surface should already be slightly softened. You can then heat the area with a heat gun up to a temperature of about 200 degrees Celsius. When you reach this temperature, you will notice that the resin liquefies again and can be scraped off.
However, heating should be done very slowly and carefully, as other parts of the work-piece made of plastic or wood could otherwise be damaged or burned. You can find detailed instructions on the subject and further information in our text on the subject of removing epoxy resin.
Tip: When solid epoxy resin is liquefied with hot air, harmful vapors can sometimes be released. For this reason, you should always wear a suitable breathing mask when working in this way!
Is Food Grade Epoxy Resin Available?
Almost all epoxy resins are food safe after complete curing. However, this state of complete curing can only occur after several weeks for some resin mixtures. In principle, epoxy resins can be certified for use as containers or processing substrates for foodstuffs. However, most resin manufacturers refrain from this step because of the high costs involved.
What Does the Term Resin Stand for?
Particularly in the field of contemporary art, resin is often used when referring to all kinds of resins. However, it is just another name, in most cases resin is used in English or German language only as a synonym for, in particular, epoxy resin.
How can Cured Epoxy Resin be Further Processed?
After epoxy resin has cured, you actually hold nothing else in your hands but a piece of hard plastic. You can therefore rework the material in the following ways:
Are Epoxy Resin Coatings Waterproof?
After curing, epoxy resin is and remains waterproof, provided it is not penetrated by holes or cracks. This versatile material remains waterproof for many years, even in the long term.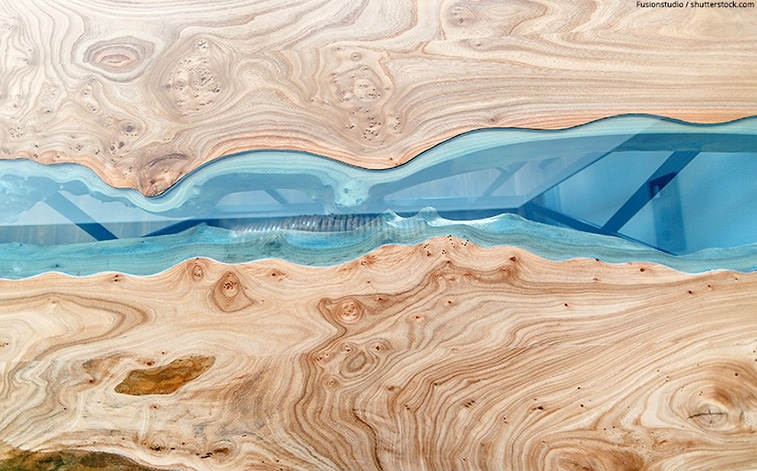 What is Meant by the Term Pot Life?
The term pot life is sometimes used as a term for the maximum time span of processing epoxy resin. The exact length of the pot life depends on the following parameters:
Which resin (from which manufacturer) and type was used
Of the resin quantity processed in one operation
Temperature values of environment and work-piece surface
The temperature of the mixed epoxy resin
In the course of the pot life, the consistency of the epoxy resin mixture changes from relatively thin to thick. At some point, the resin mixture can no longer be processed and eventually becomes solid. Depending on the amount processed and other factors, it is possible that only relatively little time is available for processing after the epoxy resin has been mixed. For this reason, you should only ever mix as much of it as you can realistically process without major stress.
How to Get Your Epoxy Resin Bubble-free
Do not shake the containers of the components even before mixing
A steady hand during mixing prevents the increased mixing of air bubbles
It can be helpful to pre-warm the resin and hardener in the container in a warm water bath before processing
Some objects can sometimes release air bubbles into the resin during the casting process. You can prevent this by sealing these objects in advance with a thin layer of epoxy resin.
In difficult cases, the air bubbles can sometimes be removed with a vacuum pump
Title image Sunny Cobra Art / shutterstock.com
Larissa Meyer is a 32-year-old mother and creative spirit since childhood. Her passion for painting and drawing has led her to train as an illustrator and pursue a career as a freelance graphic designer. Larissa is a talented artist who is able to master a wide range of styles and techniques to bring her artistic vision to life.